CAT6A industrial connector
There are situations where it is recommended to use a shielded network cable and associated connector. Think of industrial environments or situations where devices that emit electromagnetic radiation are present.
DINTEK has Industrial Plugs in its range for this purpose. The design and materials used in these plugs guarantee maximum shielding against sources of interference.
DINTEK's standard industrial plug feeds the cable straight to the rear. With this CAT6A 360° industrial plug it is possible to run the cable to the left, right, top or bottom. Ideal in situations where there is not much space behind the connection, but where a shielded connector is desired.
In addition to the good insulating properties, the plug is also easy to install. The applied ezi-CONNECT™ system means that the connector can also be made on the cable in hard-to-reach places.
Product number N1505-05005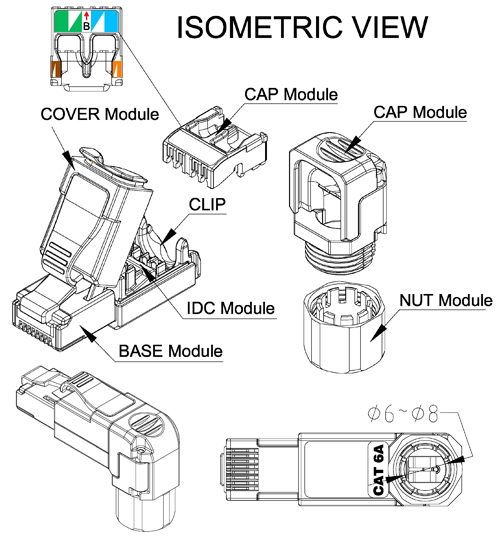 Specifications
Dimensions 45,5mm (L) x 13,8mm (B) x 27mm (H)

IDC-wire gauge 22~26AWG

Storage temperature -40℃ tot +70℃

Operating temperature -10℃ tot +60℃
DuraMAX360 360° industrial connector
Certificates
N1505-05005 - certificates
Datasheet
N1505-05005 - datasheet