Gigabit High Speed Ethernet
The PowerMAX500TM CAT6 U/UTP LSZH cable is the ideal solution when high quality unshielded twisted-pair cabling is required. This cable consists of 8 cores that are twisted per two. Because the cores are twisted, the network cable is protected against electromagnetic interference. UTP cabling stands for unshielded twisted pair and is particularly suitable for home use and small business use.
This CAT6 U/UTP cable has an AWG value of 23 with an LSZH (Low Smoke Zero Halogen) jacket. The size of the conductor therefore ensures less heat development and less voltage drop over distance. The cable uses LSZH sheathing and meets all fire classification standards, including European Dca standards. This means that the cable minimizes the risk of the after-effects of an electrical fire, such as inhalation of gas and smoke.
Product number N1101-04049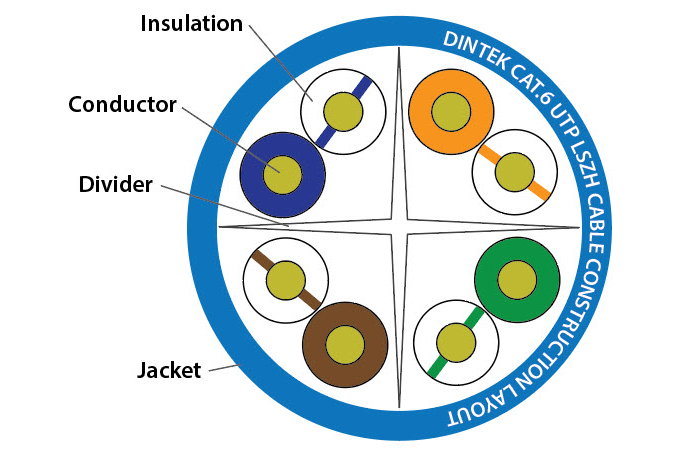 Plug and crimping tool
With the Pass through crimping tool from DINTEK, a DINTEK ezi-PLUG can easily be attached to a cable. The plug allows the twist in each pair of wires to be maintained as close as possible to the contact of the plug. This will increase the performance capacity of the wire pair.
Combine the Pass through plug with the RJ45 boots and use the Pass through crimping tool for final assembly.
CAT6
CAT6 stands for Category 6 and supports gigabit Ethernet segments up to 100 meters. This DINTEK PowerMAX500TM cable has been tested at over 500 MHz. Also, this DINTEK cable has shown performance test results enabling 10Gbit Ethernet transmission up to 70 meters in length. The cable is certified to handle PoE++ and 4PPoE – IEEE 802.3bt level 3 & 4 and comes boxed without molded connectors.
Highlights
Length 305 meter

Color blue

Type cable U/UTP LSZH

Category CAT6