LSZH Low Smoke Zero Halogen
LSZH stands for low-smoke zero-halogen, and describes a cable jacket material that is non-halogenated and flame retardant. Unlike PVC cables and those made of other compounds which produce vast amounts of dense black smoke, toxic fumes, and acid gas when exposed to fire, LSZH cables produce very low levels of smoke and toxic fume and no acid gases.
Non-halogenated means that it is free of materials such as Fluorine (F), Chlorine (Cl), Bromine (Br), Iodine (I), or Astatine (At), all of which are reported to be capable of being transformed into toxic and corrosive matter during combustion.

Applications of LSZH cables
As LSZH cables produce very little smoke when they come in contact with a flame, they are often used indoors, especially in public areas such as train stations, hospitals, schools, high buildings, and commercial centers where the protection of people and equipment from toxic and corrosive gases is critical. They are also used in poorly ventilated areas and hazardous environments. Data centers contain large amounts of cables and are usually enclosed spaces with cooling systems that can potentially disperse combustion byproducts through a large area. Other materials burning may also contribute greater amounts of dangerous gases which will outweigh the effect of the cables. There have been notable fires where cables burning contributed to corrosion, but in some instances, better fire response techniques could have prevented this damage.
DINTEK's range of LSZH cable exceeds Class E channel specification as set down in international standards, adhering to all fire rating standards, including European Dca standards.
DINTEK provides standards conformance, certifications and full technical specifications for all of their products, including LSZH cable, as demonstrated below.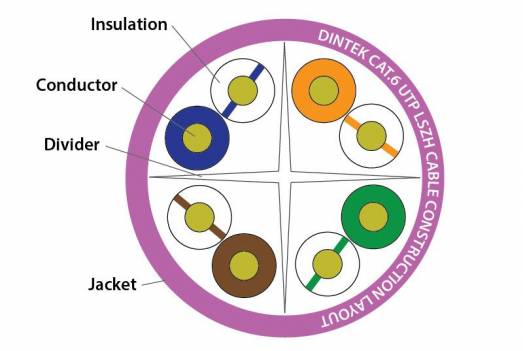 Standards conformance
ISO/IEC11801 2nd edition Class E

ANSI/TIA-568-2.D standard

CENELEC EN 50173-1, CENELEC

PoE++ & 4PPoE - IEEE 802.3bt level 3 & 4

EN 50575:2014 incl. amendment A1: 2016

EN 60332-1-2:2004 incl. amendment A1: 2015

EN60332-3 | EN61034-2 | EN60754-1 & 2 | EN 13501-6: 2014
Independent verified certifications
ETL & DELTA certified according to ANSI / TIA-568.2-D Cat.6

Delta cables for use in construction site work

Reaction to fire Classification - Dca
Performance and cost
It was once true that the electrical and mechanical performance of LSZH cables were inferior to that of their traditional counterparts, but this is far less true today. Cable manufacturers have continually enhanced LSZH products that provide the fire retardant properties of PVC and FEP materials, without reducing flexibility, bend radius, cold temperature capability, and performance. LSZH cables are typically more expensive because their production requires additional steps and manufacturing time. However, cost will continue to decline as the market for LSZH cable increases.
Choosing the right LSZH cable
The proliferation of rules, codes and disparate regulations and standards makes it difficult for cable manufacturers to adequately define whether they are or are not truly LSZH rated. Some data sheets that might otherwise seem to meet these requirements surprisingly often do not state this, but instead provide only cable construction (primarily jacketing) frequently leaving out the dielectric material. If a cable seems desirable, but does not clearly indicate its fire associated characteristics, the best way to make a final decision is to contact the manufacturer.
Extensive range of LSZH cables
With 30 years in the business, DINTEK is well-positioned to understand each client's requirements in selecting an LSZH cable.
For details on our comprehensive range of LSZH cable across Cat.6, Cat.6A and fiber, contact sales@dintek.nl.