Singlemode fiber optic patch cable SC-SC yellow
Singlemode fiber optic patch cables with SC connector can be used for connections where the fiber optics are assembled on both sides with an SC connector.
The DINTEK fiber patch cables are equipped with connectors and can be applied directly. These cables are available in different lengths. See the table below for the available lengths and corresponding product numbers.
Available lengths
| Length | Product number |
| --- | --- |
| 0.5m | N2104-03086 |
| 1m | N2104-03023 |
| 1.5m | N2104-03125 |
| 2m | N2104-03001 |
| 3m | N2104-03002 |
| Length | Product number |
| --- | --- |
| 5m | N2104-03003 |
| 10m | N2104-03012 |
| 15m | N2104-03056 |
| 20m | N2104-03046 |
| 30m | N2104-03126 |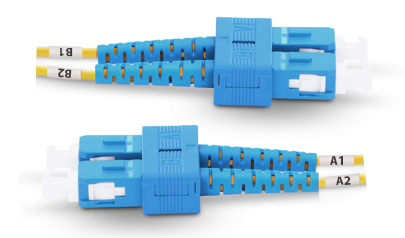 Highlights
Machine polished with little loss

LSZH

SC to SC

UPC