Customized OM4 fiber optic cable
Customized fiber optic cable for both indoor and outdoor use. This cable has an LSZH (Low Smoke Zero Halogen) jacket. The size of the conductor ensures less heat generation and less voltage drop over distance. The cable meets all fire classification standards, including European B2ca standards. This means that the cable minimizes the risk of the after-effects of an electrical fire, such as inhalation of gas and smoke. The cable is also metal-free, waterproof, UV-resistant and halogen-free.
Productnumber N2102-05110
Highlights
Category OM4

LSZH

12 core

Colour black

B2ca classification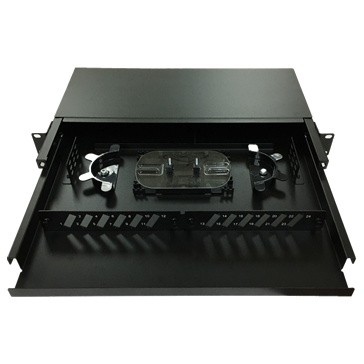 Fiber enclosure
With this fiber tray it is possible to assemble one or more incoming glass fibers in a building. For this purpose, the fiber optic is mounted directly on the front plate with a connector. Or use is made of a pigtail that is attached to the cable by means of a mechanical splice and fusion splicer.
This high-quality and cost-efficient extendable fiber tray can be mounted in a 19″patch cabinet and takes up 1U height. The tray is equipped with front plates for 2×6 SC connectors.
Can be used in combination with