Gigabit High Speed Ethernet
The PowerMAX™ CAT6 F/UTP network cable is the ideal solution for your voice and data communication needs. This cable has an AWG value of 23 with an LSZH (Low Smoke Zero Halogen) jacket. The size of the conductor ensures less heat generation and less voltage drop over distance. The cable uses LSZH sheathing and meets all fire classification standards, including European Dca standards. This means that the cable minimizes the risk of the after-effects of an electrical fire, such as inhalation of gas and smoke.
Our PowerMAX™ range features CAT6 components such as patch panels, connectors (jacks) and patch cables. You have an end-to-end solution that maximizes data throughput. This system provides you with sufficient buffer space for all future technologies that run faster than a Gigabit. The PowerMAX™ cable has been tested at 250 MHz. and is certified to handle PoE++ and 4PPoE – IEEE 802.3bt level 3 & 4. This cable is supplied on a roll without molded connectors.
Product number N1103-04005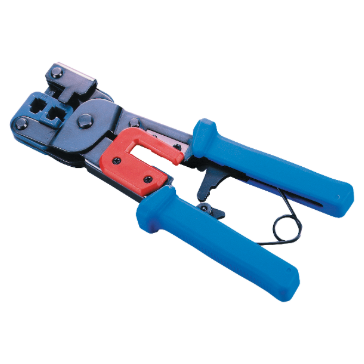 Crimping tool
Met de crimping tool van DINTEK kan eenvoudig een RJ45, RJ12 en RJ11 stekker aan de kabel vastgezet worden. Trim en strip snoeren met precisie in één beweging, voor consistente, hoogwaardige verbindingen.
Highlights
Length 305 meters

Color light blue

Cable type F/UTP LSZH

Category CAT6